The construction of Airport Link caused a lot of disruption for cyclists riding from Albion to the CBD. The construction site blocked off the existing path through Flynn Park requiring a lengthy detour across Bowen Bridge Road and behind the Royal Brisbane Hospital. The sweetener for cyclists was the promise of new cycling infrastructure when the project was complete. Airport Link was opened in July 2012 which was 5 years after the bike path from Albion was blocked off. The new path from Federation Street through to Campbell Street was opened briefly but then mysteriously closed off again. The original bike path was reinstated and came out onto Bowen Bridge Road at the junction with Northey Street and the exits from the Inner City Bypass and the Clem7 Tunnel. This was an improvement over the original detour but still included the long detour behind the hospital and the crossing of a major highway took an "interminable" amount of time.
A lengthy campaign began to have the path to Campbell Street reopened. Neither TMR nor BCC were very forthcoming about the reason other than to say there were contractual issues to be sorted out. A rumor circulated that the reason the path was closed was because of contaminated soil having been used and hence the name "The Toxic Path" came into use. This rumor was confirmed in July 2013 when signs went up on the construction fencing blocking the path which said "Danger: asbestos removal in progress". However, at the end of this work the path still did not open as further work was carried out to stabilise the banks of the creek and the path was widened by 50cm where there was no grass verge. After waiting 18 months "The Toxic Path" was finally opened on Wednesday 29 January 2014.

Entrance to "The Toxic Path" on Campbell Street.
The path is built to a very high standard with plenty of space for cyclists and pedestrians. It is lit for its entire length and has landscaping along the edge of Enogerra Creek. From Campbell Street the path passes under the exit ramp from the Inner City Bypass and crosses Enogerra Creek using the same bridge as the exit ramp from the Clem7 Tunnel. It then winds back under this ramp and follows the northern edge of the creek to the corner of Federation Street. There is a turning under all the spaghetti junction which takes you to the junction of Bowen Bridge Road and Northey Street which connects on to the Enoggera Creek Bikeway.

The Toxic Path
One drawback of following the edge of Enoggera Creek is that the path floods with water during king tides. This could have been alleviated by moving the path further from the creek or by raising it up by only a small amount.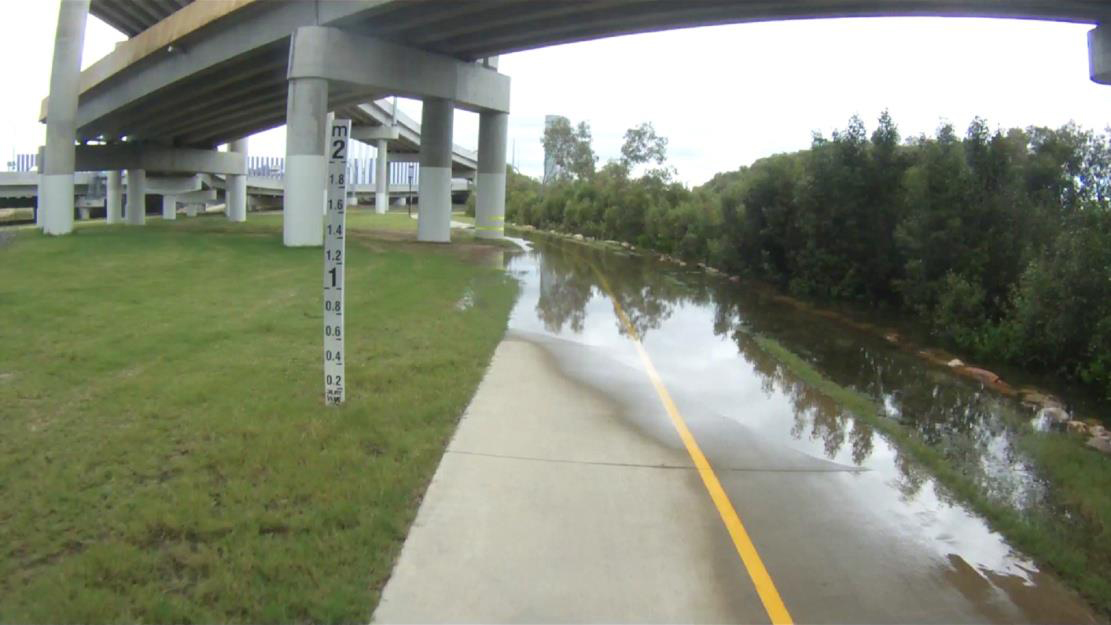 A bit further to the left or a few centimeters higher.
Last Updated: 03 December 2015